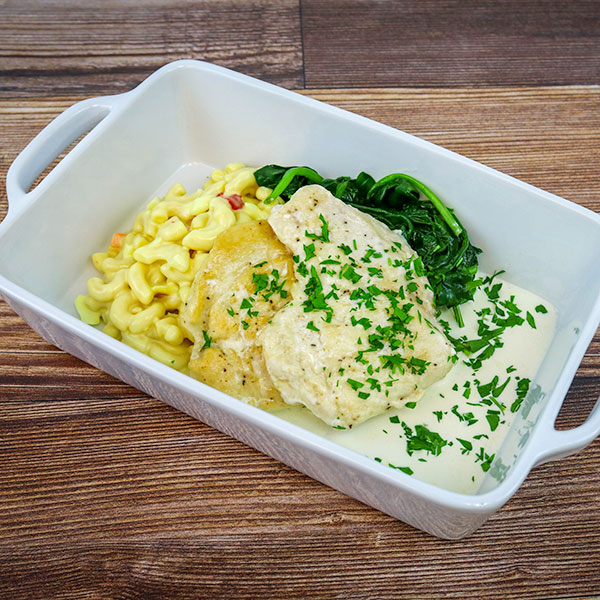 Homestyle Chicken Macaroni Salad Bowl
Yield: 25 each entrée bowls
Ingredients:
8 lb. carton Reser's Amish Macaroni Salad (71117.00212)

2 cups Canola oil

50 each 4 oz Chicken breasts, pounded to ½-inch

3 cups Seasoned flour

Sauteed spinach

1 ½ cup Italian parsley, stemmed and finely chopped
Homestyle chicken gravy
8 oz Butter

8 oz (2 cups) AP flour 

1 gallon Chicken stock

1 gallon Heavy cream

2 tsp Black pepper, 28 mesh
Directions:
In a large stockpot, melt the butter until bubbling, but not brown.

Add flour, whisk together, and cook for 1-2 minutes without browning.

Whisk in the heavy cream and chicken stock and bring to a simmer.

Cook for 15- 20 minutes until thickened and whisking frequently.

Season with kosher salt and black pepper to taste and place into steamtable pan and keep warm.

Per order, dust 2 chicken breasts in seasoned flour and sear in a sauté pan. 

Brown on both sides and then add 5 oz ladle of sauce and finish the chicken in the sauce.

In a large bowl, place 5 oz Amish Macaroni Salad, ½ cup sauteed spinach, 2 chicken cutlets, top with chicken gravy, and garnish with chopped Italian parsley.